Have you ever wondered who your kid was chatting with on WhatsApp? Are you looking to satisfy your curiosity on why your employees are always on their phones at work? You can satiate your curiosity with WhatsApp spy apps that let you see every conversation without being caught.
I'm going to show you how you can read the WhatsApp messages of another person. Together, we will explore how to utilize WhatsApp spy tools that give you full access to your target person's texts. As an expert, I guarantee you that this guide will provide all the answers you need concerning WhatsApp tracking.
Top Choices to track WhatsApp
[rpt name="text-messages"]
A Free Way to Spy on WhatsApp Messages
While you can't hack WhatsApp, there are other methods you can exploit to track someone's messages. The most reliable option that offers less risk of being caught is by using spy apps like mSpy. But if you're looking for a free alternative, then WhatsApp Web is your best bet.
WhatsApp Web
As you may likely know, WhatsApp not only works on cell phones but also on laptops and PCs.  You can take advantage of this to read your child's or partner's chats. To achieve this, you'll need to have physical access to the person's phone and know the pin, pattern, or password.
How to Use WhatsApp Web Spy
  Enter the address https://web.whatsapp.com on your computer browser.
  A QR code will be displayed, with instructions for iPhone and Android.
  Then launch the WhatsApp app on the target person's phone.
  On the Menu/Setting tab, select WhatsApp Web, and the phone camera will display.
  Place the phone's camera over the QR code on your computer for scanning.
  Once the scan is completed, you can read the chats right on your computer.
You can also use the WhatsApp Web option to spy on WhatsApp text messages with your phone. To do that, open your Chrome browser, and set it on the Desktop Version.
Limitations
On Android 7 and higher, and iOS and above, WhatsApp displays a notification of Web use on the target phone. The alert remains there until you disconnect your computer. The notification makes it easy for the target person to find out their WhatsApp is being accessed by another person.
The Best Way to Spy on WhatsApp Without Their Phone
Instead of risking getting caught using WhatsApp Web, it's better to use professional WhatsApp spy software for Android and iPhone. A WhatsApp Spy software or app allows you to monitor the WhatsApp messages, contacts, and media files of your target person. These apps will enable you to read messages without being discovered.
Also, they're useful for Snapchat and Facebook monitoring. You can track Facebook and other social media messages with no hassle. I find these apps helpful in recording all Internet activity, geolocations, and calendar data. Again, the ability to do all these stealthily is what makes a professional spy app remarkable.
What Are the Best Spy Apps With WhatsApp Monitoring Feature?
I've tried out a couple of spy apps in the market, and not many offer the features or efficiency they claim. Some of the most popular and effective ones include mSpy, Highster Mobile, and XNSPY. Let's take a look at these apps individually.
Personally, mSpy is the best WhatsApp tracker on the market, and this claim holds for media platforms like Forbes, IBM, and Fox2Now. The reason for its top position is not far fetched. It's compatible with iPhone, iPad, and all Android devices. The app has a wide range of features, including access to private chats, group chats, contacts, media files, deleted messages, and calls on WhatsApp. With an affordable price package, mSpy has my highest commendations.
Pros: 
  It provides you with monitoring activities and information that are completely safe and secure – only accessible via a personal dashboard.
  The app icon is not displayed on the target phone, making you undiscoverable.
  Its customer support is available 24/7.
Cons:
  One license can only work for one device.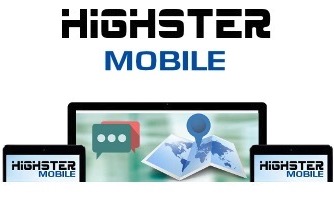 Highster Mobile Cell Phone Monitoring app helps keep your children safe and employees more focused at work. It has a WhatsApp spy feature that allows you to check others' WhatsApp chat history. The software also allows you to access GPS location and history, as well as access to the phone contacts. Highster Mobile works in a stealth mode, making it hard for the target to discover you. Hence, if you wish to track WhatsApp messages – Highster Mobile is a good choice.
Pros:
  It operates in an ultimately convert mode, so you don't have to worry about being detected.
  It allows access to a Live Control Panel.
  The software is easy to install.
Cons:
  It has a limited number of features.
  It has ineffective customer support.
  The app offers no free trial.
  It lacks the geofencing feature.
XNSPY is a WhatsApp messages tracker for spying on Android and iOS devices. It allows you to monitor the messages, calls, location, and Internet activity of another person. The app has a WhatsApp monitoring feature that lets you track WhatsApp conversations and shared media. With it, you can spy on WhatsApp without the target phone, and you will never be detected. Hence, it is an excellent tool for parental control.
Pros:
  It provides geofencing and location history.
  It offers a private installation.
  It allows you to access contacts and alerts you of unwanted contacts.
Cons:
  The app is costly, and there's no option for a free trial.
  The software may not work on some phones.
How to Monitor a Target Phone With WhatsApp Spy Tool
Now, I'm going to show you how you can start monitoring a target phone using a WhatsApp tool. I've broken everything down in a step-by-step guide to making the process smooth.
Step 1. Check Your Device Compatibility
Check if your phone is compatible with the WhatsApp spy software. mSpy is compatible with all iOS devices and Android 4 and higher.
To Check Your Android Version:
–    Open the System Settings on the target device's menu.
–    Scroll down and tap About Phone.
–    The device's OS version will display under the Android version.
To Check Your iOS Version:
–    Open Settings on the target device.
–    Click on General, and select About in the tab that displays.
–    Scroll down to see the iOS version.
Step 2. Create an Account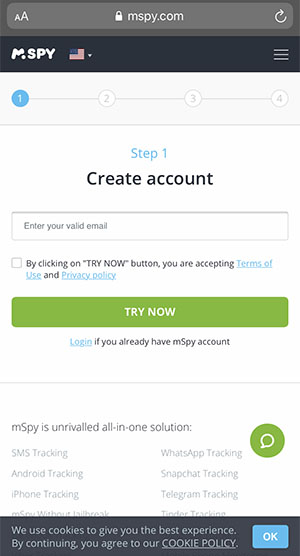 Visit the mSpy website at www.mSpy.com to create an account. Enter your email and select the target device to be monitored – iOS or Android. You have the option to choose that later. Then choose the plan you want to buy. You can go for either the basic plan or one of the three premium plans.
Complete your billing information, and choose your payment method. Fill in your payment details to submit an order. Now, you've taken the most significant step towards remote WhatsApp tracking.
Step 3. Install Software on a Target Phone
Once you purchase a plan, you will receive an email with the login and password to your dedicated Control Panel. There, you'll find instructions on how to install the software on the target phone.
You'll need complete authorized physical access to the phone. Open the phone browser, enter the link, and go ahead with the installation.
Step 4. Your Spy Software Is Ready for Use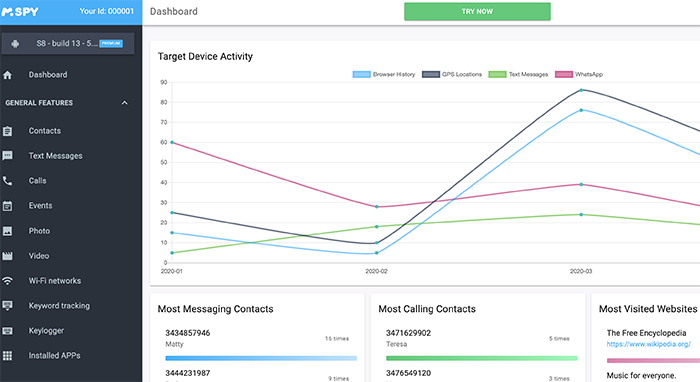 You can now start tracking your kid's or employee's WhatsApp activity remotely. Log in to your Control Panel, where you can comfortably monitor the target person's messages and other information. Which WhatsApp activity can you access from your control panel?
  Private Chats: mSpy gives you full access to the targeted person's private chats on WhatsApp. You get to see deleted messages and receive an update on new ones.
  Group Chats: From your Control Panel, you can see the WhatsApp groups your target person belongs to. You also get to see the conversations, media files, and members of these groups.
  WhatsApp Calls: The Control Panel gives access to every WhatsApp call made or received on the target phone.
  Timestamps: Besides showing you sent and received messages, mSpy gives you the timestamp of every conversation, allowing you to note the exact time of a particular chat.
What Else Can You Monitor?
Besides keeping an eye on the target person's WhatsApp activities, you can also spy on other activities, such as:
  Browser History: mSpy has a display of the person's most visited websites. You get to see the website title, URL, number of views, and the last time visited. That way, you can be aware of your kid's exposure to dangerous or malicious websites.
  Contacts: From your Control Panel, you can view the contacts saved on the target phone.
  Calls and SMS: If you want to know who the target person is talking to, the mSpy app gives you that ability. There's a list of "Most Calling Contacts" on the Control Panel that shows you the outgoing, incoming, and missed calls of the phone. This list also displays the duration of each call and the timestamps. Also, there's a "Most Messaging Contacts" list that lets you see sent and received SMS.
  GPS Location: You can also monitor the location history of your target person. You get to know the exact locations using the latitude and longitude points. Also accessible is the precise addresses of the location and their time of visit.
Is There Any Other Way to Spy on WhatsApp Conversations?
WhatsApp is arguably the most popular messaging platform in the world today. It utilizes the end-to-end encryption technique to secure accounts, making it impossible for anybody to hack it. But if you go on Google and search, "How to hack WhatsApp," you're sure to find tons of articles and YouTube videos claiming to offer help. They're nothing but a complete waste of time.
Some other popular, but ineffective ways you can spy on someone's WhatsApp messages include:
–    Hacking a person's app via a website and accessing their WhatsApp conversations.
–    Stealing the target person's iCloud login details so you can read their iPhone WhatsApp chats.
–    Using a different MAC address.
Hence, if you wish to read WhatsApp messages of another number, you will find out many apps in the market claim to offer WhatsApp monitoring, but most of them don't work.
How to Spy on WhatsApp Messages Without the Target Phone: Your Benefits
Mobile phones help us stay in touch with our kids. However, the possible dangers that come with it make many parents hesitant about giving their kids one. While smartphones could be a potential distraction for your child in school, the most worrying threat is their possible exposure to identity thefts and predators.
Before the advent of WhatsApp Spy apps, there was no way to deal with these problems. Now, you can help your kid curb distractions such as video gaming in class, and most importantly, prevent them from sharing personal information online.
WhatsApp monitoring apps are not only for parents, but employers can also benefit a lot from it. Having employees that are always on their phones instead of performing their tasks can be frustrating. It seems to be commonplace for staff to be carefree about their duties when no one is watching.
With WhatsApp spy apps installed on their corporate smartphones, they'd receive that push to stay on their toes during office hours.
Sometimes, we get worried about who our partners might be talking to. The feeling that your partner is possibly cheating on you can be disturbing. WhatsApp spy apps can help you provide answers to these questions.
Read also: How to Read Girlfriend's WhatsApp Messages
You get to see who they are chatting with, and the content of their conversation. With these WhatsApp spy apps, you can put your mind at rest knowing your partner's whereabouts, call logs, and messages.
Takeaway
Tracking your kids' or employees' WhatsApp conversations has never been easier. With trusted and efficient spy software like mSpy, you can keep an eye on what's going on in your target person's WhatsApp. Besides the WhatsApp messages, you also get to access other exciting features such as Browser History, Location, Geofencing, Instant Messengers, Calls, and SMS.
You can begin your WhatsApp tracking in three simple steps: check your device compatibility, create an account, and install the software on the target phone. Then you can monitor the target's WhatsApp activity from your Live Control Panel.
Although there are other ways you can try, they are mainly ineffective. Your best bet is using a reliable WhatsApp spy app like mSpy.